Top 5 Car Travel Apps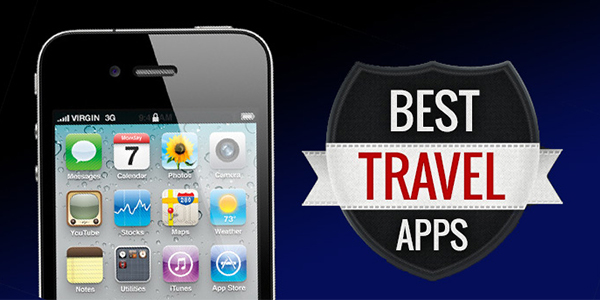 Traveling by car? There are so many apps that can make your road trip easier. Gone are the days when you needed to unfold that paper map, look up the state in a map book, or watch all the signs as you approach an exit to see what's there. Whether you're looking for a place to stop, in need of directions, your gas tank is empty or just wondering about upcoming traffic, there's an app for that!  So, check out our list of the top 5 apps for car travel to see which ones will work for you!
iExit
The iExit app tells you what is available at upcoming exits. This app is most beneficial if you are traveling on the highway. Using your device location, iExit lists a directory of services and businesses at the next 100 upcoming exits. It lists restaurants, hotels, gas stations, rest areas and more–and everything listed is within 1.5 miles of the exit! It has some great search features which allow you to search by name, category, amenities, hotel deals and much more. Looking for a favorite stop such as Starbucks?  Simply mark it as a 'favorite' and iExit will alert you of all the Starbucks on your route going forward.  Depending on your device, iExit can be downloaded for free or with a cost of $2.99 or less.
Waze
The Waze app is GPS-navigation-meets-social-media. It is a community-based travel app where users can report accidents, speed traps and other road hazards as they pass them, giving real time information.  This awesome app alerts you of upcoming traffic, road closures, accidents, police speed traps, and even potholes. Waze users share gas prices and info on local places and businesses. You can add Facebook friends and sync contacts to share and send ETA and travel info. Waze offers turn-by-turn voice-guided navigation and quickly reroutes based on road conditions.  Waze is a free app and a must-have for people who drive in highly-congested areas.
Roadtrippers
Let Roadtrippers plan your next trip!  All you have to do is input your starting location, destination, travel dates and things you might like to do and Roadtrippers will plan your excursion!  Once your route is set, Roadtrippers displays icons of all the restaurants, amusement parks, campsites, hotels, and other attractions along the way. The app finds all places of interest, but what sets Roadtrippers apart is the off-the-beaten-path and quirky attractions it also finds. Tap on any icon and Roadtrippers displays an information card about the potential stop. With a simple tap, you can add any attraction or stop to your trip. And, with all of those great features, Roadtrippers is a free app!
GasBuddy
GasBuddy is a free app that allows you to find the cheapest price in any area for gas. It displays the closest gas stations and their prices. You can also search by city or zip code. In addition, GasBuddy allows users to share gas prices. One nice feature is the 'My Favorite Stations' feature. If you only like to use certain gas stations (for example, Exxon or BP), you can mark them as favorites and GasBuddy will only display those stations. Once you've found a gas station, you can navigate to it with a tap!  GasBuddy is an easy-to-use app that can save you time and money.
Google Maps
Google Maps is a free GPS-navigation app. Put in your destination address and Google Maps will give you turn-by-turn voice-guided directions, including lane guidance. Not only does the app provide driving directions, it also allows you to get walking, cycling, and public transit directions and maps are available. Google Maps provides live traffic conditions and automatically reroutes to find the best route. The app lets you save your home, work, and favorite addresses as a shortcut. Don't have an address for your favorite restaurant or store?  Simply use the 'search by name' feature. Google Maps is accurate and easy to use, making it the top GPS app of choice.
Give these apps a try and see how they can improve your time in the car. Whether it's saving money on gas or saving time driving, each one can benefit you in a different way. If you have a favorite app you'd like to share, or tips on the ones we mentioned, please leave your feedback in the comments section below.